What a wonderful Wednesday: A gorgeous, sunny, Indian Summer kind of day :)
What is new in my Wednesday WIP image? Can you tell?
Yes, you are right! There is a definite lack of blue in today's image - Yeah!!
Finally, my Cleo is done - I will reveal it on Friday.
In my bid to finish the Cleo come what may by Saturday, I have slightly aggravated my Carpal Tunnel so since Saturday I haven't being doing too much WIP wise.
My loom cap is moving forwards pretty slowly, but I am hoping that I will once again be active this weekend so that I can share this pattern with you next week.
I will also be casting on my next Stash-Busting Project, a Basque Hat for Jas. I made one of these caps last year as a Christmas gift for a friend and Jas asked me if I could make her one for the autumn. I will gladly do so as it was a lovely cap to knit.
What do you have in your project bag?
Would you like to share and see what I have in mine?
Then come along and join in this month's "Knitting Madness" Live Event on Friday.
To find out more go HERE
The Secret Santa Handmade Swap Signup is going strong, I am so excited! We have already crossed the participant number from last year, I can't wait to see all the wonderful goodies that get made and sent all over the world :)
Are you going to be joining us for this year's Secret Santa Handmade Swap?
Find out how to join in HERE
An now Introducing:.....
Look at the new cuties belonging to our family since Saturday:
This is our new sibling kitty couple, Bubble and Fawn. They are 11 weeks old and so sweet. It is so nice to have cats back in the house after our 13 year old beloved Stitch died in March of this year. But, boy they are a handful :)
Today I am so excited as I have been featured on The SITS Girls gorgeous Page!
If you haven't visited there yet, I would warmly recommend that you do. They feature awesome, interesting content and it is always such a pleasure to visit.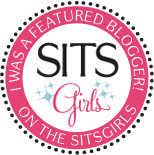 Reading wise: I am just about done with "Gone Girl" and am also reading "You Are What you Eat". Whilst living in S.A. I used to love watching this series and the book is a nice refresher on the tips and tricks she offered.
Don't Forget - Today is our last chance to win one of these awesome Diaries for 2014.
Giveaway ends midnight (CEST). Open Worldwide! Good Luck!
The Winner will be announced during the course of tomorrow!
Also tomorrow: I will be featuring some of the wonderful tutorials that I found linked on my Tutorial Thursdays Linky Party this week - will yours be included?
See you then.
x