Thank you to all you lovely crafters that linked up their stuff over the past month.
The challenge for February was St. Patrick's Day and those of you who contributed with a craft in this theme are featured below. I can't wait to see what you all come with in the next month's challenge :)
St. Patrick's day is not something all of us celebrate and the challenge was not as easy as some of the otherwise very commercial monthly celebrations so I was thrilled to visit the links from:
Thank you so much ladies for sharing your wonderful, inspirational St. Paddy's Day crafts with us all.
Please feel free to grab yourselves a featured button for this month :)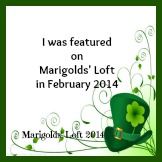 I look forward to seeing you all again tomorrow for the beginning of the new month's Challenge!