Welcome back to another Easter edition of Tutorial Thursdays.
Today, I am very privileged to have Rachel from Sunny Days and Other Things here as my Guest-Blogger.
So without further ado....Off you go Rachel :)
A Little about Rachel: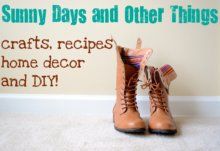 Hello everyone! My name is Rachel from
Sunnydaysandotherthings
.
I am 24 living just outside of Washington D.C. where I recently moved into my first home with my boyfriend and bunny, Meatwad. I run an etsy shop called TheBunnyandI.com where Meatwad and I sell vintage and handmade items. I am believe that handmade and homemade is 100% better than store-bought and I like to share that passion with my blog readers! I also believe that you can make your home beautiful and personal without spending a ton of money and I'm so excited to share a little project with you today!
Inexpensive Spring ruffle wreath DIY
stickers or embellishments
decorated wooden plaque (if you like!)
It's almost spring here in Northern Virginia! I love decorating for spring because it makes my home feel fresh from the doldrums of winter! I especially love wreaths. I love the warm, festive touch that a wreath adds to your home in any season. The only problem with wreaths is that they can get expensive. Buying a pre made wreath at a store can cost you upward of $20 and it's not handmade or personal. On etsy they jump even higher to $40-50 because they have that loving, handmade element to them.
But I'd like to show you a couple tips on how you can make a great wreath for any reason on a small budget.
First let's start with the basics, the wreath form. At Michaels these are $6 for a 12 inch wreath. That doesn't seem too bad until you're making several wreaths for the year and you have to account for all the other materials you'll be buying!
The cheaper alternative that I've just discovered is readily available at Lowe's, Home Depot, or your local hardware store. Head on down and pick up a 6 foot foam pipe wrap. This stuff is essentially the same stuff as what the wreath is made of and it only costs you $1.64 for 6 feet of it! With my coupon I got an additional $.30 off but who's counting? The great thing is you can cut this in half and have 2 large wreath forms for a fraction of the price of the pre-made wreath form you buy at the craft stores!
You can also cut this in thirds depending on the size you want your wreath to be! So cut at your own discretion!
After you have cut your pipe insulation, duct tape the ends together. Don't worry it doesn't have to look glamorous, we are covering all this up anyway!
What you'll now want to do is find your favorite color yarn, one you don't mind seeing every day and you'll start to wrap the wreath. After your wreath is fully covered in yarn you can either hot glue or tie the ends to stay put.
If you have a bunny that likes to help you craft by digging at the ends of the yarn, this is OK. We will be covering this up as well!
Next you'll want to take your yard of felt. Felt is a great, inexpensive material that holds up pretty well through the elements and dries quickly which is what you'll want for an outdoor wreath. The most tedious part of this project is up ahead, take a 3 inch (or more or less depending on how big you want your ruffles) round object and trace about 30-40 circles on the felt.
Once your circles are all drawn, cut them out. There is unfortunately no shortcut for this but it's surprisingly easy and doesn't take up as much time as I thought it would, just make sure you use good scissors!
Once your circles are all cut out, you have 2 options. You can pin these in place or hot glue them. Pinning is a less permanent option and allows you to move things around if you're not happy. I just used hot glue since I had it on hand. You'll want to pin or hot glue directly in the center of the circle to attach it to the wreath. When you add the following circle make sure that the center is as close to the first center as possible, this is what helps create the ruffle effect!
If you really love the way this looks you can cut more circles and ruffle the entire thing! I like to have the ruffles at the bottom of the wreath signifying a beautiful spring bouquet!
Now that your ruffles are done to your liking, you can take your foam letter stickers and apply the phrase that you want. I didn't want this wreath to just be for Easter so I chose "Happy Spring". I got these stickers from the Dollar Tree so they were $1 for each booklet. I needed 3 of them since I had 3 P's in my phrase. Luckily I've stocked up on these guys and I have several booklets just laying around.
Carefully place your saying across the top of your wreath. Once this is finished you can decorate to your liking! I like to wrap a pretty colored ribbon around the empty space in a criss cross pattern. But since I wanted this to be a fresh, clean representation of spring I just hot glued little flowers I had left over from a wedding present in a random, scattered pattern.
I also added this "welcome" plaque that I had from another project. If you like the look of this all you need is more alphabet stickers and a small block of wood. You could also dangle pom poms or a little heart sachet here as well!
Now you can step back and admire your beautiful wreath that looks way more expensive than it was!
All in all if I calculate the items that I purchased this wreath was $.67! Sixty Seven Cents because I can use the other half of the foam for an entirely new wreath! Pretty great, right? You will have plenty left over to make one for a friend or neighbor too!
I love this basic pattern because it translates so well through the seasons. You can do a Christmas themed ruffle wreath, a Halloween ruffle wreath, the possibilities are endless! And with how inexpensive it is to create, you'll be dreaming up new holidays just as an excuse to make one!
I hope you enjoyed this inexpensive DIY!
Thank you so much Rachel - What an awesome, interesting post :)
Do head over to Rachel's' Blog to find out all the other cool things she gets up to :)
If you would like to be a guest-blogger on Marigolds' Loft I would love to hear from you.
And now it is your turn :)
Here are the two most visited links from last week:
And my chosen Favourite link of the week:
Well-done ladies and thank you for sharing these amazing Crafts.
(If you have a Facebook Page or account, I would very much appreciate a share :))
Don't forget to grab your button if you haven't done so already :)
Please feel free to link up your crafts below.
They do not have to be tutorials, I would love to see any crafts.
I understand that the point of linking at a party is to gain exposure and share your goodies, but please stay a while and visit some of the other links available.
I love hosting the Linky Party, but it would be so much more fun for everyone, if all of you, would take a couple of minutes to visit at least 2 other links below.
We all appreciate visitors and comments, so please be so kind and do so.
Rules for the Linky Party:
Be a Follower of Marigolds' Loft, this is not a MUST, but I would appreciate it :)

Grab my button below and showcase it somewhere on your blog OR create a visible link.
Do not Link if you are selling something.
Be sure to only link the relevant Blogpost and not your whole blog.
Please be so kind and visit at least 2 other posts linked below, it is always nice to receive visitors, this is a linky party after all! :)

In linking below you are giving me the permission to use of your image if it is being featured the following week. If I am unable to use your image I can unfortunately not feature you.

Please do not link up stuff you have already linked up before!
Please note: I will remove content that does not abide by the rules mentioned above.